Protect Our Drinking Water from Toxic Coal Ash Pollution!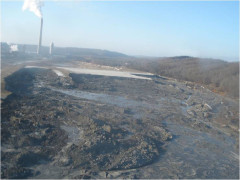 Background
Coal ash is contaminating our drinking water supplies and endangering Hoosiers' health. With more coal ash sludge lagoons – 84 – than any other state, Indiana should be acting to ensure safe disposal of this dangerous waste, but our coal ash disposal standards are weaker than those for household trash. HEC is urging that the U.S. EPA adopt enforceable national standards for coal ash disposal.
-- In the last decade, a coal ash lagoon owned by Indianapolis Power and Light failed twice, releasing a total of 60 million gallons of coal ash sludge, contaminating the White River in the Martinsville area.
· --Ten Indiana coal ash sludge lagoons have contaminated groundwater.
· --Five Indiana coal ash lagoons inspected by the U.S. EPA have been rated with a "high hazard" potential, meaning a failure could endanger human life.
· --Residents in East Mt. Carmel had to have their drinking water replaced after boron, leached from a Duke Energy-owned coal ash lagoon at the Gibson power plant, contaminated their water wells.
· -- In the Town of Pines, Northwest Indiana-based utility NIPSCO was allowed to dump more than 100 million tons of coal ash into an unlined landfill, and dispose of more coal ash by using it as road fill and a soil leveler throughout the town. As a result, a toxic plume of heavy metals made its way into residents' drinking water wells. The Town of Pines has since been declared a Superfund site, and local residents are still waiting for remediation to eliminate this health and environmental hazard.

Learn more about Indiana's coal ash problem in HEC's new report, Our Waters at Risk.

Public Comments
Public Comments (18)
Aug 7th, 2017
Nicholas B. from Bloomington, IN signed.
Feb 27th, 2017
Someone from Brookston, IN signed.
Feb 27th, 2017
Joye F. from Lafayette, IN writes:
Please help to stop the pollution of our water sources. Water is life. Our planet, our country, our state, our communities, need clean water to survive.
Feb 7th, 2017
Jaclyn S. from Carmel, IN writes:
It's not ok to poison our own people. Please make these companies take responsibility for their actions as well as other industries leaching chemicals into our water systems.
Jan 13th, 2017
Jennifer B. from Indianapolis, IN writes:
We have a chance to make the utilities clean up these settling ponds correctly the first time, Instead of continuing to contaminate our ground and surface water. Please ban together for this common goal, it's too important to ignore.
Jan 11th, 2017
Doug D. from Kokomo, IN writes:
These issues never go away, they only get bigger and more expensive to clean up. Clean ups are extremely costly, renewable energy is not. Address it now before it is too late!
Jan 6th, 2017
Janice S. from Newburgh, IN signed.
Dec 8th, 2016
Natalie B. from Fort Wayne, IN signed.
Dec 5th, 2016
Mary P. from Kennard, IN writes:
Please clean up the coal ash that is threatening our water ways.
Dec 4th, 2016
Someone from West Lafayette, IN signed.